REIWA 5TH WAVE FEMINISM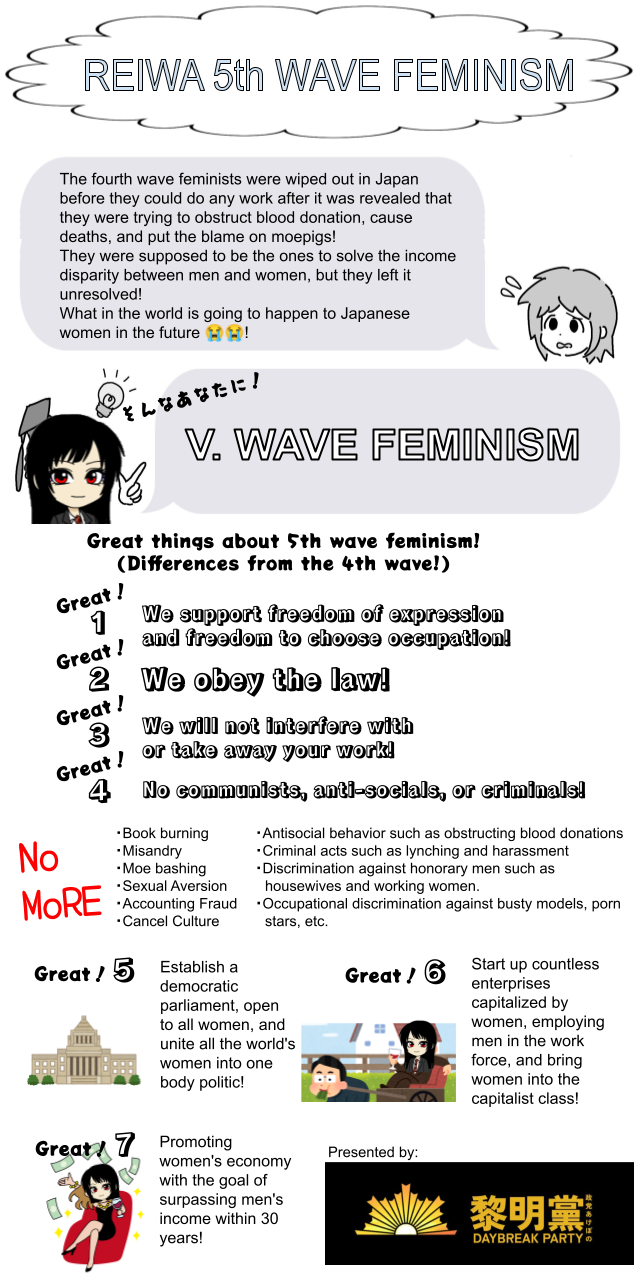 I have some sad news for everyone!
In its heyday, the feminists, who had tens of thousands of followers on Twitter alone, has now lost support due to issues such as attacking expressions, hindering blood donations, harassing female creators and businesswomen, intense internal conflicts, and its relationship with the communists. Now, only a few hundred remnants remain. Feminism in Japan has been devastated!
It's troubling that the problem of economic and political disparities between Japanese men and women remains unresolved.
What will happen to Japanese women from now on?
The current situation of women in Japan
Japan has been considered to have achieved a high level of equality in fields such as education, health, safety (protection against violence and sexual crimes against women), and the rights of sexual minorities, compared to other advanced countries. However, compared to Europe, the United States, and China, Japanese women have weaker economic power and a delayed entry into politics, which seems to be a major factor pushing down Japan's ranking in gender equality surveys.
On the other hand, if economic and political success for Japanese women can be achieved, Japan has the potential to become a world leader in women's rights, surpassing other countries.
REIWA 5th WAVE FEMINISM
Reiwa 5th wave Feminism aims to analyze the issues of previous feminisms, reflect on them, and present sensible and effective solutions to the problems faced by Japanese women.
Above all, the goal is to strengthen women's economic and political power, aiming to catch up with men's economic and political power within thirty years.
The plan for the Reiwa 5th wave Feminism is as follows!
Vox populi, vox Dei (The voice of the people is the voice of God) - Holding a Women's Parliament to Follow the Decision-Making of Voters
Traditional feminism has advocated for an elitist approach where progressive women who have 'awakened' and 'updated their values' lead and guide women who are deemed not to be so.
As a result, there have been noticeable negative remarks and actions towards democracy, disregarding the responsibility and capacity of women who were considered 'not awakened' or 'lagging behind,' failing to listen to their protests, and showing a tendency to disregard fundamental human rights such as freedom of expression and freedom of occupational choice by easily violating them.
Furthermore, previous feminism tended to question the legitimacy of laws and moral principles, lacking a spirit of compliance and social contribution, and exhibiting characteristics of engaging in illegal acts such as harassment and hindering blood donations without hesitation.
Moreover, the fact that previous feminism rejected democracy and placed the standards of the movement on correctness rather than popular will led to the normalization of fierce internal conflicts over leadership within the movement, causing many supporters of the moderate faction to drop out due to fear of being lynched and resulting in the rapid radicalization of the movement.
Therefore, the Reiwa 5th wave Feminism learns from the failures of previous feminism and breaks away from elitism, adopting democracy. Reiwa 5th wave Feminism establishes a democratic virtual parliament where anyone, regardless of nationality, can register as a voter, and will follow the decision-making of voters! It will enact a constitution with moderate and sensible content, such as the Japanese Constitution and those of other advanced countries, and firmly believe in democratic and indispensable fundamental human rights, such as freedom of expression, freedom of occupational choice, private property, and men's rights, striving for their further expansion and fighting against unfreezers!
It also endeavors to comply with the law, uphold the spirit of compliance, cooperate with law enforcement and judicial institutions in various countries, and crack down on criminal acts committed by feminists, such as obstructing business, defamation, suppressing speech, harassment, and lynching!
Promoting the World and the Women's Welfare - Severing Ties with the communists and Promoting Women's Economy
Under the influence of Marxist feminism, which claimed that the fundamental cause of gender discrimination lies in capitalist society, previous feminists exhibited a characteristic of not hesitating to undermine economic rights such as employment, private property, and freedom of occupational choice, which are commonly referred to as economic liberties. The inexplicable behavior of targeting businesswomen, female creators, and female models and attacking them preferentially can also be attributed to this leftist ideology.
Reiwa 5th wave Feminism reflects on this and severs ties with the communists, enacting a moderate bourgeois constitution that incorporates guarantees of economic rights similar to those in the Japanese Constitution! Furthermore, based on the constitution, it will establish administrative agencies (Women's Government), allocate budgets for promoting women's economy, establish numerous enterprises based on women's capital and ideas, employ men as labor force, and distribute profits to the voters! The goal is to elevate women to the capitalist class and catch up with men's economic power within thirty years from the establishment of the parliament!
Friendship between Women and Men - How Beautiful It Is to Get Along Well
While so-called radical feminism considers the interests of men and women as conflicting and adversarial, fiercely attacking men, including those who are children, women who have relationships with men, wives, and mothers, the Reiwa 5th wave feminism will build a win-win relationship with men! It aims to bring benefits, particularly economic benefits, to voters' families, partners, friends, regardless of gender, through preferential and favorable employment in feminist capital enterprises, preferential treatment in goods and services, economic subsidies and assistance, provision of safety nets, support for childcare, and educational opportunities for children.
In addition, the male children of voters in the Women's Parliament will be granted equal rights to women (women's rights)! They will have the right to participate in the Women's Parliament as honorary women and receive dividends from feminist enterprises. Therefore, for example, in a single-parent household with a mother and a male child, if the mother registers as a voter in the International Women's Parliament, the male child will also be recognized as a voter and be eligible for dividends for both individuals. Partners of voters will also be provided a path to political participation, similar to the concept of foreigner suffrage in Japan.
Furthermore, it will encourage feminist capital enterprises to employ and utilize men as workers, striving to create employment opportunities with favorable conditions and benefits!
SUPPORTERS WANTED!
How did you find it?
If Reiwa 5th wave Feminism succeeds, it will not only solve the issue of gender inequality but also empower women to transition from being the exploited class to becoming the exploiting class. This may provide protection for ourselves and our families in the face of concerns such as the increase in non-regular employment and job losses due to AI.
We would greatly appreciate your support for the latest version of feminism by purchasing the note or engaging in other forms of support.
Thank you for your interest in the Preparatory Committee for the World Women's Parliament and your support for the latest version of feminism!
Women's Parliament Sponsors will have their names listed on the
Planned Site of the Universal Women's Parliament
!